Celebrating the Success of Women
Here is a speech GMC CEO Prem Goyal delivered in a Mayfair hotel to celebrate the success of women while emphasising giving back.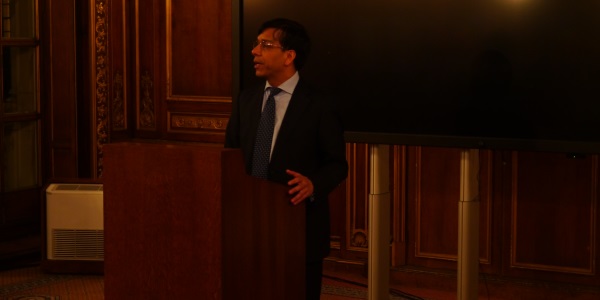 Good evening Ladies and Gentlemen.
I am delighted to join you to celebrate your success. You should be proud of what you have accomplished and I would like to congratulate each one of you. Please give yourself, and each other, a round of applause.
I want to pay tribute to Mei Sim Lai for organising this event. Today's celebration has been possible because of her hard work, dedication and passion. Mei Sim you are my inspiration. Let us give her a huge round of applause.
The theme of this evening is how leaders can give back to others. Winston Churchill said:
'We make a living by what we get. We make a life by what we give.' So I would like to share with you how I made a living and a life by recounting my journey from India to the UK. You will hear how I took help when I needed it and how I've been supporting others. I hope my story will strengthen your resolve to keep giving back and galvanise others to do the same.
My story began 7,000 kilometres away from here in India, where I grew up the youngest of 11 children and went to state schools in Delhi.  My mother couldn't help me with my homework since she couldn't read or write. But, she was the best alarm clock I've ever had!
My mum instilled in me the value of giving back. She followed her desire to help others by cooking ten evening meals daily for homeless people. She would ask me to walk one kilometre each day to distribute the meals to them. And in spite of my initial grumbling, I always felt great seeing their sunny smiles.
During the summer I would stay at my sister's house. Her place had no bathroom, no running water and one electric light. I remember collecting five buckets of buffalo dung every day. I'd shape them into pancakes, slap them on walls to dry and then use them for fuel. Believe it or not, I was the local dung collector champion!
Through hard work at school, I won entry to the Indian Institute of Technology and earned my Bachelor's degree in 1986. Afterwards, I obtained a scholarship for a Masters' degree and went to New York to purse higher education.
But my excitement of flying for the first time was short-lived. The second I stepped off the plane I dropped to the bottom of society.  For the first time in my life, I was a fish out of water: a different culture, a different language and a different socio-economic level. I was dirt poor. I desperately needed some guidance and encouragement. This was when I began to take help from others and started attending a local church. Its leaders advised me to root myself in the community and keep learning in order to realise my dream of owning a business.
I also recognised that I needed to acquire a combination of three ingredients at the same time to become a successful entrepreneur: top business skills, substantial savings and a global profile. I estimated that it would take long hours, determination and razor-sharp focus for 10 to 15 years.
Implementing my plan, I decided to save 50% of my monthly scholarship, which was no easy feat. I never ate out in New York for the first 12 months. But I still had the most delicious food everyday… because I cooked it myself!
As I regained control of my life, I suffered a brain haemorrhage. Standing here today, it is difficult to describe how much support I received from my wonderful roommates, university and local government during that ordeal.  With their assistance, I graduated with my Masters' degree and got a job as an engineer.
I then set a goal of saving 50,000 dollars in three years to pursue my next goal of studying for an MBA. I started working upto 60 hours per week. When not working overtime, I would use my time to volunteer as a fire-fighter and work on my funny accent. Btw, I had no accent problems in India!
I can't tell you how happy I was when I had saved 50,000 dollars and joined UCLA. In 1992, I completed my MBA with the Dean's Outstanding Student Award, the highest honour given to any student.
After graduation, I joined Sales and Trading at Goldman Sachs and set a goal of saving one million dollars in ten years.  Btw, I was interviewed 31 times before I got that job! Having worked on Wall Street, I gained a global profile by living in London, Tokyo and Zurich while consulting with senior bankers.  I achieved my goal of saving one million dollars three years earlier than planned. And I diligently worked 80 hours every week, just the way my mom did to raise 11 kids.
Armed with my education, my savings and my global profile, I launched Global Markets Consultants, a management consulting firm, in London and New York in 2002. I'm proud that my company was chosen as a Preferred Supplier of Deutsche Bank every year from 2005 to 2013.  More importantly, my company actively encourages employees to give back to their communities.
Having retired in 2010, I now pursue my charitable and community interests.
In addition to being a magistrate, I support over 20 charities, as a patron or trustee.
I've raised £200,000 for charities by completing challenges such as running London Marathon, climbing Mount Kilimanjaro and cycling 500 kilometres in Vietnam.
One of these charities is Kiwanis UK, led by Althea Smith, who epitomises giving back.
She has dedicated her life to improving the world, one child and one community at a time.
Althea, we are delighted to have you here.
And I love my community. I've already committed three million pounds of my savings and 60 hours per week of my time to build bridges among our diverse peoples and to inspire our young people to aim higher.
But, I am not the only one. Annie Shepperd, a successful business leader who is also here today, has been my shining light in this area.  Among other things, she is spearheading efforts to fund university education for a young girl. Can you believe that this girl is still stateless although she has lived her entire life in the UK? Annie – thank you for showing me the way.
To recognise my commitment to giving back, I was invited to have a lunch with the Queen on the top table for a Diamond Jubilee celebration. Recently Boris Johnson presented me the Individual Community Spirit Award.
In closing, on reflection, I would not be standing before you without the opportunities and support given to me by others.
I'm here because of my mom.
I'm here because of communities in the US and UK.
I'm here because of my wonderful friends, including Mei Sim, Althea and Annie.
I'm grateful for the positive difference they have made in my life. I simply reciprocate by helping others realise their true potential. My goal now is to ensure my "giving back account" is bigger than my bank account.
And my doors are open to you. If you need my mentorship or resources to achieve your goals of giving back to others, I'll be happy to join hands with you. I do look forward to working together in the months and years to come. Together we can grow giving back.
Ladies and gentlemen, that is my dream
Thank you very much