My Journey from New Delhi to London
Here is a speech GMC CEO Prem Goyal recently delivered in the presence of two Lord Mayor's and city business leaders in London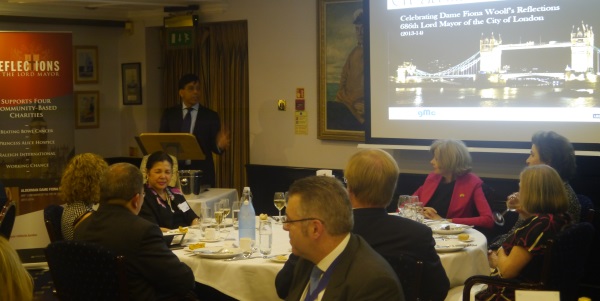 Good evening, Distinguished Guests, Ladies and Gentlemen.
I am delighted to join you at this second Annual Reflections of the Lord Mayor. I'd like to thank Chris Seow for inviting me to share my journey to business success with you at this prestigious occasion.
I want to pay tribute to Chris for founding this wonderful event which strengthens the harmonious relationships between business, civic and community life in the capital. Chris has mastered both the worlds of business and academia. His journey illustrates the all-encompassing, international and enabling nature of the City of London.
This evening would not have been possible without his initiative, hard work and dedication as a diversity champion. I call this leadership in action. Please join me in giving him a huge round of applause.
'The best way to predict your future is to create it.' These are the famous words of Abraham Lincoln, which I remember and follow everyday in my own life.
So I would like to reflect on how I created my own future by sharing my journey from Delhi to London.  You'll hear how I fulfilled my dream of owning a successful global business – while at the same time making a positive difference to the lives of Londoners.
My story began 7,000 kilometres away from here in Delhi, where I grew up the youngest of 11 children and went to state schools.
During my summers as a child, I would stay at my sister's house. Her place had no bathroom, no running water and one electric light. I remember collecting five buckets of buffalo dung everyday, which I'd shape into pancakes, slap them on walls to dry and then use for fuel. I'm pleased to share that I was the dung collector champion!
Through hard work at school, I won entry to the Indian Institute of Technology, one of the world's leading engineering universities. I graduated with a Bachelor's degree in 1986.
Afterwards, I obtained a scholarship for a Masters' degree from Clarkson University and went to New York to pursue higher education.
My excitement of flying for the first time at the age of 22 however was short-lived. The second I stepped off the plane I was a fish out of water, faced with a different culture, a different language and a different socio-economic level. I was dirt poor.
But I reminded myself that I had come to New York to fulfil my dream of having a global business. And I would work day and night to achieve this goal.
At this time I realised that in order to be a successful entrepreneur, I needed to acquire a combination of three ingredients at the same time.  They are top business skills, substantial savings and a global profile.  I understood that it would require determination, a razor-sharp focus and making sacrifices for 10-15 years.
I immediately decided to save 50% of my monthly scholarship, which was no easy feat, I assure you. I never ate out in New York for the first 12 months, but I still had the most delicious food everyday… Because I cooked it myself!
As I got a grip on my life, I suffered a brain haemorrhage.  But I recovered from this setback with the help of my wonderful roommates and stayed focused on my education, graduating with a Masters' degree in engineering.
Afterwards, I got a job as a project engineer and set a goal of saving $50,000 in three years. I worked overtime all the time. When not working 60 hours per week, I would use my time to volunteer as a fire-fighter and work on my funny accent. By the way, I never had any accent problems in India!
I can't tell you how happy I felt when I had saved 50,000 dollars, enough to pursue my next dream of studying at a top business school.
In 1992, I graduated with an MBA from UCLA with the Dean's Outstanding Student Award, the highest honour given to any student. And I had no outstanding student loans.
After graduation, I joined Sales and Trading at Goldman Sachs on Wall Street. I immediately set a goal of saving one million dollars in ten years.  By the way, I was interviewed 31 times before I got that job!
Having worked for Goldman Sachs, I decided to build a global profile. In subsequent years, I lived in London, Tokyo and Zurich while consulting with senior bankers and travelled to about 50 countries.  After working for 80 hours a week for seven years, I saved one million dollars three years earlier than planned.
Armed with my business education, savings and global profile, I launched Global Markets Consultants in the City of London in 2002. I am proud that my company has created hundreds of management jobs and contributed millions in corporate and individual taxes to HMRC.  It was a Preferred Supplier of Deutsche Bank every year from 2005 to 2013. Most importantly, my company promotes diversity at all levels and encourages staff to build bridges between communities.
Furthermore, my significant savings has enabled me to retire at the age of 45, and pursue charitable, travelling and community endeavours.  I've gained the Freeman of the City of London and served as a JP for five years. I support 20 charities as a patron or a board member.  I've raised £200,000 for charities by completing challenges, such as the London Marathon and climbing Mt. Kilimanjaro.
I love travelling.  I've been to 100 countries and far flung places such as the North Pole and the South Pole. If you love polar bears, then I suggest you go to the North Pole, and if you love penguins, then go to the South Pole.
I'm passionate about my community. I've already committed two million pounds of my savings, my talent and 60 hours per week of my time to promote diversity in London. To date, I've delivered inspiring talks to thousands of young people in the House of Commons, the House of Lords and community events.
I've also created opportunities for 20 community champions to contest in our recent UK elections as Councillor and MP candidates.  This has brought their unrecognised leadership skills into the limelight.
To recognize my services to the economy and for promoting charitable giving, I was awarded an OBE. Additionally, I was chosen to have a lunch with the Queen on the top table for a Diamond Jubilee celebration event.  And just last year, Mayor Boris Johnson presented 2014 Individual Community Spirit Award to me for building One London.
On reflection, this has all been possible because of the opportunities provided to me by the City of London. After coming here on a business trip in 1999, I fell in love with London overnight because of its diversity, cricket and …. Curry!
I am extremely grateful to the City for embracing me and giving me the chance to start my global business. I've lived in the City for 16 years, and for the last 10 years right next to Tower Bridge.  Would you believe that this is the same bridge that was plastered on my bedroom wall back in India!?
In closing, I want to give back to the City of London what it has given me over the years.  I'd like to commit one million pounds more of my savings today, totalling to three million pounds to date, to promote diversity, equality and inclusiveness at the top in the City.
Because of the talent, time and effort leaders such as Dame Fiona Woolf, Sir David Wootton, Chris and you the audience make, this Square Mile has always led London and the UK in everything it does.  I hope that we will also lead our nation in achieving still further diversity, equality and inclusion at the top.
And I'd like to explore ways I can work together with you to make this happen.
Ladies and Gentlemen, that is my dream.  Thank you.