Nurturing our young talent at St John's Cass Primary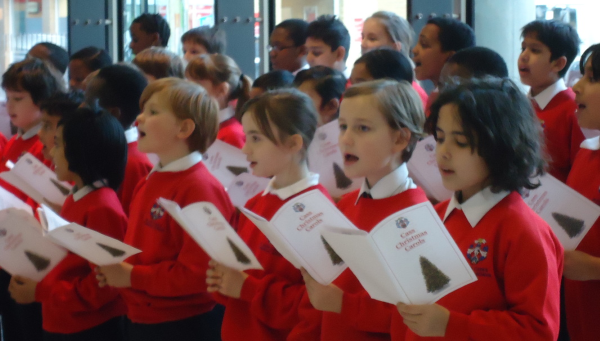 Good morning everyone.
I am delighted to be here with you.
I want to thank your headteacher Tim Wilson for inviting me to speak to you.
Before I begin my talk, I would like to share with you a quote from Mahatma Ghandi. He said "Live as if you were to die tomorrow. Learn as if you were to live forever." It is a mantra that I follow everyday in my own life.
Today I would like to share with you my journey from India to the UK. You will see that education is the story of my life. You're going to hear how education opened doors for me, how I invested my savings in learning, and how I used my education to become successful.
My story began 7,000 kilometres away from here in India. I grew up the youngest of 11 children and went to state schools in Delhi. My school was a lot different to your school. There was no playground; no musical instruments; no desks. We all sat on the floor and wrote on wooden boards. Basic as it was, my education there taught me the importance of self-discipline.
During my summers as a child, I would stay at my sister's house. Her place had no bathroom, no running water and one electric light. I remember collecting five buckets of buffalo dung everyday, which I'd shape into pancakes, slap them on walls to dry and then use for fuel. I was a local dung collector champion!
Through hard work at school, I won entry to the Indian Institute of Technology, one of the world's leading engineering universities and earned my bachelor's degree in 1986.
Based on my academic performance, I obtained a scholarship from the US to pursue a Masters' degree in engineering from Clarkson University.
I flew to New York at the age of 22. And so, it was education that opened my door to the rest of the world.
But my excitement of flying for the first time was very short-lived. The second I stepped off the plane I dropped to the bottom of society.  For the first time in my life, I was a fish out of water: a different culture, a different language and a different socio-economic level. I was dirt poor.
The worst was that no one had heard about my university or my town.  I remember telling myself that I would work day and night and rest only after reaching to the top. I would do whatever it took to create business opportunities for myself, rather than relying on others. So it was then I built myself a model to boost my self-esteem. This model I called the learning, earning and saving model.
After getting encouragement from my teachers, I started saving every dollar and valuing what my parents had provided for me in India. I decided to save 50% of my monthly scholarship, which was no easy feat, I assure you. I never ate out in New York for the first 12 months, not even McDonalds! But still I had the most delicious food everyday… because I cooked it myself!
After one year, I saved more than 4,000 dollars which hugely boosted my confidence. And I decided to invest these savings in acquiring higher education rather than buying expensive clothes and gadgets.
As I got grip on my life, I suffered a brain haemorrhage. But I recovered from this setback with the help of my roommates. I stayed focused on my education and graduated with a Masters' degree in engineering. So it was education that pulled me through hardships.
Afterwards, I got a job as a project engineer in New York and continued to save 50% of my earnings. I set a goal of saving $50,000 in three years. I worked overtime all the time and kept my expenses to the minimum by enjoying free parks, museums and libraries. I never even thought about going for a foreign holiday or seeing a football match or music concert live.
Not only was I investing my money carefully, I was investing my time wisely too. When not studying or working overtime, I would use my time to volunteer as a fire-fighter and work on my funny accent. By the way, I never had any accent problem in India!
I can't tell you how happy I felt when I had saved 50,000 dollars, enough to pursue my next dream, that is, to earn an MBA – a business degree – from a top business school.  In 1992, I graduated with an MBA from University of California, Los Angeles with the Dean's Outstanding Student Award, the highest honour given to any student. I always say choose textbooks, not facebook! So again, it was education that lifted me higher.
After graduation, I joined Sales and Trading at Goldman Sachs bank on Wall Street. I immediately set a goal of saving one million dollars in ten years.  By the way I was interviewed 31 times before I got that job! From day one, I started working at least 80 hours a week, but I enjoyed the nonstop, intense competition.
Having worked for Goldman Sachs in New York, I decided to build a profile of a global manager. In the following years, I consulted for Deutsche Bank in London and Tokyo and Citi Bank in Zurich and travelled to more than 50 countries. After working for 80 hours a week for seven years, I achieved my goal of saving one million dollars three years earlier than planned.  My mantra: Believe in yourself, not in luck.
Armed with my global profile, my education and my savings, I launched Global Markets Consultants, a management consulting firm, in London and New York in 2002.  I am proud that my company has created hundreds of management jobs and was a preferred consultant of Deutsche Bank, a top investment bank every year between 2005 and 2013.  And my savings have enabled me to retire at the age of 45 to pursue my other interests, including travelling and community involvement.
I love travelling.  I've been to about 135 countries, including far flung places such as the North Pole and South Pole. My next destination is Bangladesh! I love my community. I'm a Councilman at the Guildhall. I also support numerous charities and initiatives in London  I've raised over £300,000 for charities by completing the London marathon and climbing Mt. Kilimanjaro.  I also serve as a magistrate in London.
Some of you might be wondering how I find so much time to do all these things. Ok I'll tell you the secret.  Did you know that Londoners spend six hours every day to make other people celebrities?  This is how much time each person spends on watching television, surfing the internet and using social media.
By spending huge amounts of time and energy on these activities we're making others celebrities, including Hollywood stars, sport idols and social media company owners. As a result they are millionaires and billionaires and we're not fully realising our own dreams. Remember you can't become a pianist by taking a picture with a piano.
For more than 20 years, I've limited myself to watching television and using social media to one hour per day, on average.  Before I spend more than seven hours per week on entertainment, I always ask myself whether I can put the experience on my CV or talk about it in a job interview.
So, I urge you not to spend more than one hour per day on activities that make others money rich and you time poor.  Instead invest your free time to make yourself a celebrity. Just imagine, you could be the next Lewis Hamilton, Adele or Mark Zuckerburg!
In conclusion, the bottom line is that everything I've experienced and achieved has only been possible because of education. I'm here to help you achieve your dreams. I assure you that my doors are open to you and your school.
Metaphorically speaking, I'm willing not only to teach you how to fish, but also ready to provide the fishing equipment to make sure that you reach the stars. But be absolutely clear that you have to go fishing.
And on this note, I would like to close with what I tell myself everyday: Ask not what others can do for you, ask what you can do for yourself.
Thank you very much