Receiving an OBE
I was thrilled to collect my OBE from Prince Charles at Buckingham Palace today.
Being inside the Palace, surrounded by symbols of the country's history, customs and culture, I felt deeply proud to be citizen of this land. One-by-one they came up to receive their awards for good deeds done; it was very clear how many talented and outstanding people we have in the UK. Witnessing the ceremony and speaking to other recipients, I'm confident the country's best days are still yet to come.
As one of my guests I invited Sirajul Islam, a fellow Londoner. However, unusually for a guest at an investiture, we'd never met each other before. This was because last year I put out an appeal to find someone doing good work in the community who would like a chance to experience a ceremony at Buckingham Palace.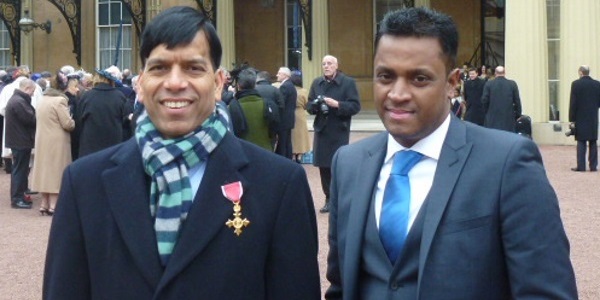 Sirajul is a magistrate and a school governor at Charlotte Sharman Primary School in Elephant & Castle. I was glad when he said he got a lot out of the experience and gained from seeing inside the Palace.
Since moving to the UK I've been committed to creating jobs and uplifting communities. Receiving this honour has strengthened my resolve to make a difference, especially in my own community in Southwark. With our collective efforts, I believe we can come together and ensure every young person can achieve their full potential and everyone can live in a decent home.
Prem Goyal